The CQWWVHF contest is one of my favorites. Stations are limited to 6m and 2m, which considerably simplifies a rover. Additionally, the scoring for rovers differs from the ARRL contests: we accumulate multipliers anew in each grid. My strategy in the CQWWVHF differs somewhat from what I do in ARRL VHF contests. I missed roving in 2016 because my truck needed some mechanical work. But I was back in the saddle for 2017.
Plans:
The 2017 route was refined from my 2015 route. Two years ago, I started in CN98 on the side of Mt. Pilchuck at close to 3,000′. This is a fine location for regional QSOs, but the mountain effectively blocks Es to the the population centers in the U.S. Southwest. Therefore, I moved a little to the side of Green Mountain, still near 3,000′. In past contests, I've worked big Es openings from this location. The disadvantages are that the roads beat up the truck and the low hanging vegetation beats up the antennas.
Two years ago I activated CN97 from Mud Mountain behind Buckley, WA. This year I stopped by Central Park in Sammamish, WA, where I can activate both CN97 and CN87 with excellent reach regionally. Although Tiger, Squak and Couger mountains block some areas to the south and southwest, the gap between Tiger and Squak mountain opens up the population areas in the direction of Portland, OR. The final changes from 2015 was to flip the order of the last two stops and tweaking the times.
| GRID | Location | Elevation | Start Time (PDT) | End Time (PDT) |
| --- | --- | --- | --- | --- |
| Saturday |   | | |   |
| CN98 | Green Mtn | 2900′ | 11:00 AM | 12:00 PM |
| CN88 | Lake Stevens (school) | 400′ | 01:15 PM | 02:05 PM |
| CN97 | Central Park, Sammamish | 1460′ | 03:15 PM | 04:15 PM |
| CN87 | Central Park, Sammamish | 1450′ | 04:30 PM | 05:30 PM |
| CN86 | Carbonado | 3000′ | 07:05 PM | 07:55 PM |
| CN96 | Carbonado | 3200′ | 08:20 PM | 09:20 PM |
| CN87 | Carbonado | 2167′ | 09:10 PM | 09:40 PM |
|   |   |   |   |   |
| Sunday |   | | |   |
| CN76 | Ocean Shores | 16′ | 07:05 AM | 08:00 AM |
| CN77 | Ocean Shores | 15′ | 08:15 AM | 09:05 AM |
| CN85 | Kalama, WA | 1700′ | 12:00 PM | 12:55 PM |
| CN86 | Kalama, WA | 1785′ | 01:20 PM | 02:00 PM |
Equipment:
The equipment has changed a bit over the last couple of years.
6m SSB/CW: Kenwood TS480Sat and TE Systems 160w amp (#1)
6m FM: Yaesu FT-857D (#1) and TE Systems 160w amp (#2)
2m SSB/CW: Yaesu FT-857D (#2) and RF Concepts 160w amp
2m FM: TYT 9800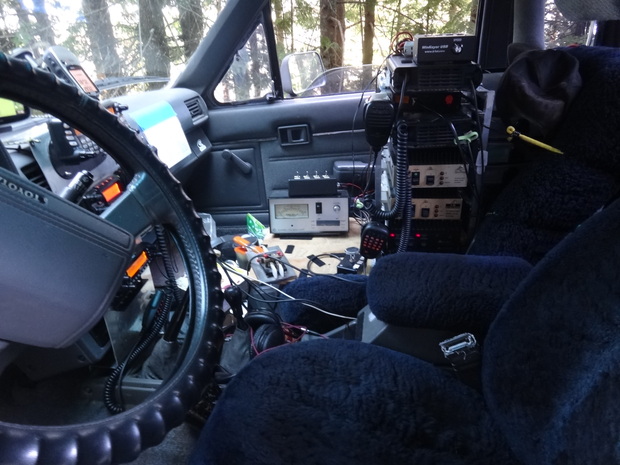 The antennas are pretty much identical to 2015:
Front: 50 MHz classic hexbeam at ~9′
Front: 144 MHz 4-el WA6VJB "cheap yagi" horizontally polarized at ~7′
Front: 146 MHz 4-el "cheap yagi" vertically polarized at ~5′
Rear: A pair of 50 MHz 3-el yagis at ~25′ and ~10′
Rear: 144 MHz 8-el "cheap yagi" horizontally polarized
Roof: 146 MHz vertical (mag mount)
Roof: 52 MHz vertical (mag mount)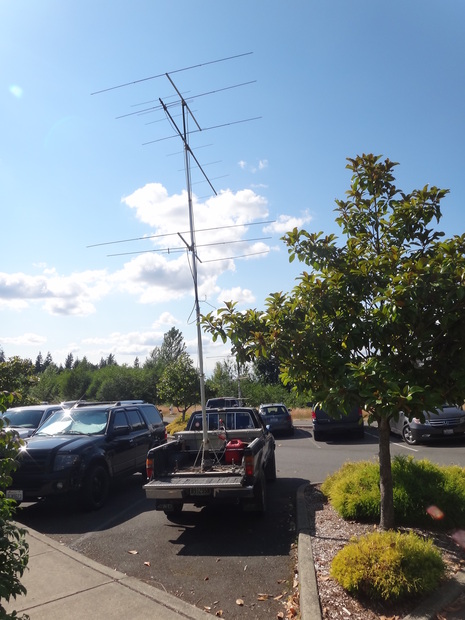 Three antenna switches were used to switch 6m SSB/CW between the hexbeam and stack of yagis, 2m SSB/CW between the front and rear "cheap yagis", and to switch 2m FM between the front "cheap yagi" and the vertical. 6m FM only used the whip antenna.
The Contest:
In retrospect, the trip to Green Mountain was not such a great idea. The vegetation was the big problem. I had to make minor repairs to one of the 6m yagis after arriving at the CN98 stop, and missed the first couple of minutes of the contest as a result.
The contest got off to a great start, however. I worked AC7MD/R in the rare grid of CN78 on 6m and 2m. I was happy to learn that KD7UO was on Quartz mountain in CN97. Last year, I hung out with Dale on Quartz mountain while I was doing a mountain topper operation.
There were so signs of Es that I could hear from CN98, although one station mentioned that the Es map was "lit up" for the U.S.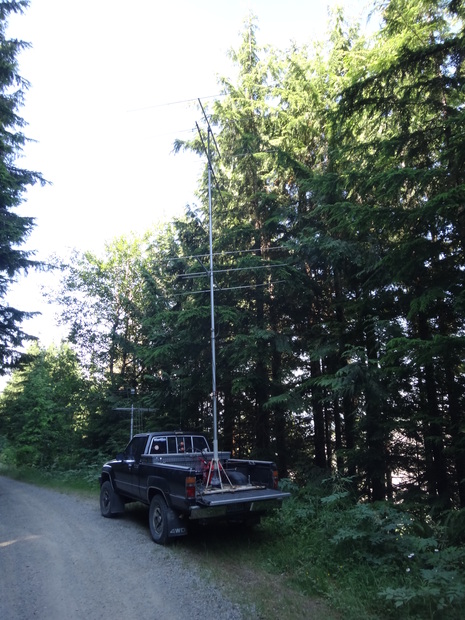 While leaving, I damaged the lower 6m yagi even more. Half an element broke off.
The next stop was in CN88 at a school in the city of Lake Stevens. In 2015, the noise levels were terrible on 6m from this location. This year, noise levels were much more tolerable, and the grid (at 400′) was mildly productive.
Toward the end of my schedule stay, I worked W6KH in DM13, but a few more minutes of searching and calling CQ suggested the opening was not sustained. So I decided to make a beeline for CN97, which is a much better location for working Es.
The "beeline" turned into a long slog through a 30 minute traffic back-up on account of a traffic accident on HWY 9. Using the hexbeam mounted on the front of the truck, I ended up making nine Es QSOs while crawling through traffic in CN88 and CN87. Only four grids were represented—DM12, DM13, DM25, DM26.
When I arrived in Central Park, a new problem arose. The parking lot was packed. Fortunately, there was one spot open in the eight parking spots that are physically in CN97. The Es opening had faded, and the only out-of-region station I worked was XE2CQ in DM12. I had planned on moving to the other end of the long parking lot I was in to activate CN87, but the lot was so full and busy, I headed to another, lower, lot. I cut my stay short, since I was behind (and had already worked many regional stations during the traffic backup). The best catch from here was working VE7DAY in CO80 on 6m.
My route to CN86 takes me between CN87 and CN97 a number of times, allowing me to make a few additional QSOs in these two grids. The biggest surprise was working, while in motion, AC7MD/R on the Pacific coast in CN76 on 2m. I hit CN86 right on schedule and got down to business. Again, there were no indications of Es, but I did work AC7MD/R in CN76 again on 2m. The one odd thing is that I worked no stations in CN85 on either band, which is pretty unusual from this location.
A mile up the road brought me to CN96, where I was scheduled to stop for an hour. A nice surprise was working John, KF7PCL, in Ocean Shores (CN76) on both 6m and 2m. Just when I was thinking about shutting down for the 2.5 hour trip to my hotel in Hoquiam, I worked N6EV (DM03), W6KH (DM13) and NR7T (DM38). But the Es dried up and I secured the antennas for the trip 10 minutes past the scheduled departure time. As I was rolling through CN86, I heard some more Es activity. Using only the hexbeam, I stopped for 20 minutes and worked eight more Es QSO (but only 3 grids, DM03, DM12, and DM13), and a few more local stations.
The next couple of hours (from 10:30pm to 12:30 am PDT) produced one new QSO, and that was with WZ8T in CN85. Finally…a station in CN85! The only other thing of note for the day was that the 6m amplifier died—probably overheated trying to work Es from CN86.
Sunday morning began at 5:30 am for a 6:00 am departure for Ocean Shores (CN76 and then CN77). Before leaving I moved the 6m amp on the FM rig to the SSB/CW rig.
The location in Ocean Shores is on a spit in the Pacific Ocean, and is theoretically challenging because it's at sea level, there are rolling hills in the direction with populations, and the Olympic Mountain range blocks everything north and northeast. Still, the location empirically is quite good. I frequently work many new multipliers from this location, and some of the best Es runs I've ever experienced are from this location. Oddly, I frequently work stations on the other side of the Olympic Mountains from Ocean Shores. Go figure.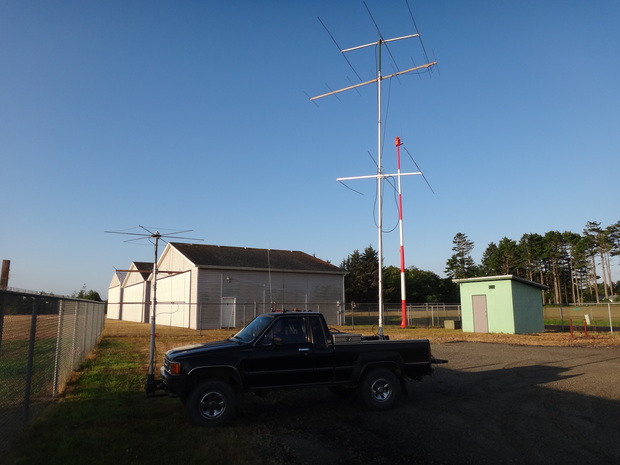 I worked all of my "morning person" friends in the greater Seattle region, KD7UO on Quartz Mountain (CN97), and AC7MD/R south of me in CN86, but that was it.
I moved to CN77 a little ahead of schedule to check into the 2m Weak Signal Net at 8:00am PDT. That provided a couple of extra grids (K7SMA in CN85 and WA7ZWG in CN88). I also worked KE7MSU/R in CN86 on both bands. Just past 1530Z, I heard a K6 station booming in from DM13, but he vanished immediately afterward. That was the only (brief) sign of Es on Sunday.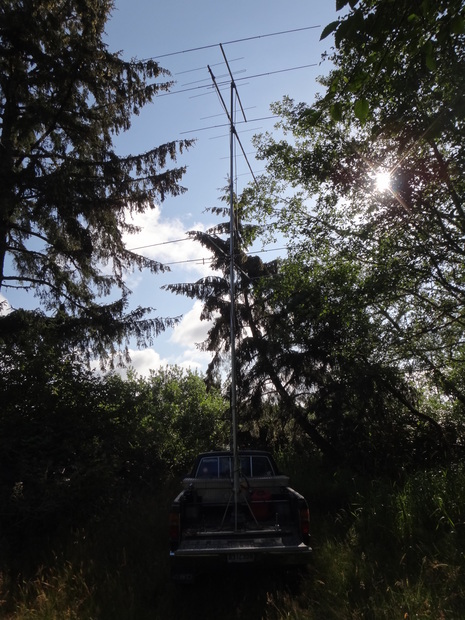 Things were picking up, so I briefly returned to CN76 for a few more QSO. I was hoping to catch Barry, AC7MD/R, in CN76 as well, but he didn't show up until I was in CN77 on the trip back. As it happens, the route back to Hoquiam (CN86) passes very close to the CN86/CN87/CN76/CN77 intersection, and there is a 1/4 mile stretch in CN76, where we succeeded in working on 6m. I also caught KE7MSU/R (CN86) on both bands.
The two hour trip to my next stop in CN85 rarely produces many QSOs. I managed only six this time, including working AC7MD/R from CN76 and CN86 and working WZ8T in CN85 on two bands.
I arrived in CN85 only a couple of minutes behind schedule and got down to work. One of my first QSOs was with K7ATN/R in CN95 on 2m, and immediately worked KB7W near Bend Oregon (CN93) on 2m as well. There were plenty of CN85 stations from here, but over half of the QSOs were back to CN87. The final stop, some 15 minutes away was on the North side of Green Mountain in CN86, where a few more QSOs and multipliers were found.
After the contest ended, I packed up the antennas for the long trip home. Before leaving, however, I drove to the east end of China Garden road and hiked to the summit of Green Mountain for a quick SOTA activation.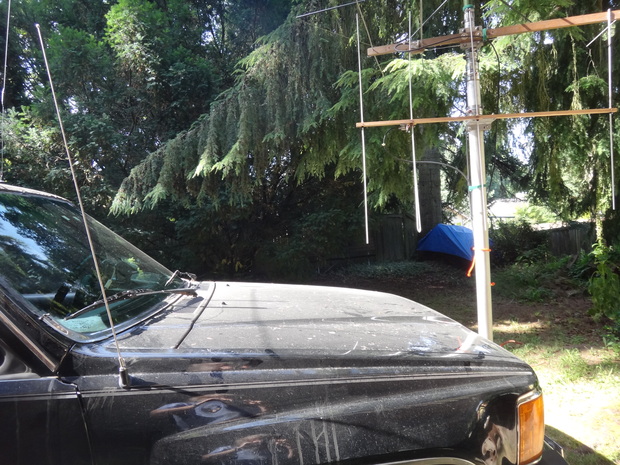 Results:
After removing duplicates, this year I ended up with 324 QSOs (176 on 6m, 148 on 2m). The total is up a bit from the 298 QSOs from 2015. I made about the same number of 6m QSOs (176 versus 170 in 2015) but many more 2m QSOs (176 versus 128 in 2015).
Multipliers were down a bit this year. I had 95 total multipliers, 53 on 6m and 42 on 2m. In 2015 I ended up with one more multiplier on 6m and two more on 2m. The final (claimed) score is 44,840 this year versus 41,748 last year. A modest improvement.
Here is the breakdown by band and grid-activated of the QSO count:
---
| | | |
| --- | --- | --- |
| Grid | 6m | 2m |
| CN76 | 12 | 14 |
| CN77 | 11 | 13 |
| CN85 | 15 | 19 |
| CN86 | 33 | 24 |
| CN87 | 24 | 17 |
| CN88 | 17 | 15 |
| CN96 | 21 | 11 |
| CN97 | 23 | 19 |
| CN98 | 20 | 16 |
| Total | 176 | 148 |
| Points | 176 | 296 |
And here is the number of multipliers by band and grid activated:
| | | |
| --- | --- | --- |
| Grid | 6m | 2m |
| CN76 | 4 | 4 |
| CN77 | 4 | 6 |
| CN85 | 5 | 6 |
| CN86 | 9 | 6 |
| CN87 | 8 | 4 |
| CN88 | 7 | 5 |
| CN96 | 7 | 3 |
| CN97 | 5 | 4 |
| CN98 | 4 | 4 |
| Total | 53 | 42 |
Here are the folks that worked me ten or more times—a perfect score is 18 (nine grids, two bands):
18 W7GLF
18 N7EPD
18 KE7SW
17 W7FI
17 KB7PSG
16 KD7UO
15 N6ZE/7
14 AC7MD/R
13 N7QOZ
12 KD7TS
11 KG7P
10 KZ1W
Also, Paul, K7CW, who was on 6m only, worked me in all 9 grids.
Summary
The weather was highly cooperative this year, not too hot, not too cool. The atmosphere otherwise was mildly cooperative with some bursts of Es, although there wasn't huge diversity in the grids worked by Es, and the openings weren't particularly strong or sustained from what I could tell.
What made this contest fun was the other rovers. Rovers accumulate multipliers in each new grid they reach, so the more rovers the better for everyone. AC7MD/R made a big loop around the Olympic Mountains, lighting up the relatively rare grids of CN78, CN77, and CN76, among others. KE7MSU/R provided CN86 and a rare signal from CN85. N6LB/R activated CN88 and CN87 and possibly other grids. And K7ATN/R provided my only QSO into CN95. All these efforts were appreciated. I also appreciate that Dale, KD7UO, kept CN97 lit up for the entire contest. From many of my grids, Dale provided the only CN97 QSO.
This was a good one.
(Short link)