The classic August UHF contest, started in 1978, is no more. The ARRL cancelled it in 2016, although it was held independently of the ARRL by "a nationwide coalition of UHF-oriented clubs and concerned individuals." I participated as a limited rover last year, and was pleased to take first place in that category.
For 2017, the ARRL rolled out a new "222 and up distance contest," held in August. The rules changed substantially from other VHF+ contests. In the rover category, there is only a single rover class. That is, limited and unlimited rovers have been eliminated. Scoring is based on the distance between 6-digit maidenhead grids multiplied by a band multiplier.
There are pros and cons of the new contest. First, it does disadvantage the practice of "grid circling." The biggest con for me is that there is no limited rover category. It is difficult enough to manage four bands in my tiny truck. Adding new bands isn't something I've really wanted to do. Also the power limits for limited rovers was nice to keep cost and complexity down. Besides that, bigger amplifiers means more heat being spewed out by the radio equipment.
I wasn't sure if I was going to even participate in the contest. I have been having fun doing SOTA activations, and the combination of a June VHF contest, field day, a July CQ WW VHF contest, and the new August contest has kept me away from hiking way too much this summer. But a week before the contest start, I decided I shouldn't miss the first "222 and up distance contest."
Distance scoring provides an interesting challenge for the Pacific Northwest on the "wet" side of the Cascade mountains stretching from Vancouver, B.C. to Portland, OR. There are many high spots in the foothills of the Cascades to the east and the Olympic mountains to the west of population centers. In fact, three grid intersections are located quite close to population centers in the accessible foothills of the Cascades. The setting is excellent for classic scoring. For distance scoring, these locations are, perhaps, too close to population centers.
Maximizing the number of grids one can activate in a 24 hour contest (for which there is only about 14 hours of activity) requires careful planning to ensure there is a good balance between driving and operating. During previous UHF contests, I hit locations at all three grid intersections (CN88/CN98/CN87/CN97, CN87/CN97/CN86/CN96, CN86/CN96/CN85/CN95) activating all but CN95. As a limited rover, I spent less time at each location with only 4 bands that don't require super precision aiming. Also, I could make many QSOs while in-motion. Hitting more grids helped me work more grids and gave additional activation multipliers.
With distance-based scoring and more bands, strategy must be quite different. I considered numerous routes and timings in the week before the contest. Ultimately, I chose a route that is a subset of my "normal" VHF contest route. I route and schedule of stops is not ideal for a distance scoring contest, but I was just looking to produce a solid score.
Part of my reasoning was that many of the "big players" in microwaves were partially or fully out of business in this contest. Folks were either out of town or had their towers or antennas down being rebuilt.
Route
Saturday's route started in CN98 on the side of Mt. Pilchuck, on a forest service road. Next was CN88 on Little Mountain, a city park in Mt. Vernon, WA. Then came a long trek to Central Park in Issaquah, WA where I would activate both CN87 and CN97. That was it for day 1. Day 2 started shortly after 7am near the CN87/CN86/CN97/CN96 boundary to work CN96, CN86 and CN87 from Mowich Lake road. I stuck to the route, except that I overstayed CN98 in order to catch W7GLF who showed up about the time I was leaving. Instead, I went to a school in Lake Stevens to activate CN88.
Equipment
The equipment included rigs and antennas to cover 222 MHz through 3456 MHz.
Most of the radios can be seen in this photograph.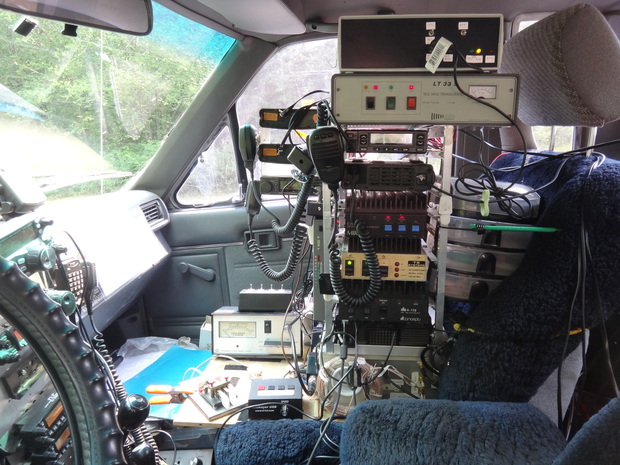 A Yaseu FT-857D was the workhorse in this set-up, being used for 432 MHz SSB/CW and with the 900 MHz (SSB Electronic LT 33 S), 1296 MHz (SG Lab), 2.3 GHz (SG Lab), and 3.4 GHz (Down East Microwave) transverters. A 222 MHz transverter (Elecraft) used a Kenwood TS-480SAT as the IF. In addition to these SSB/CW radios, I had a TYT 9800 for 223.5 MHz FM, another TYT 9800 for 446 MHz FM, a Kenwood TK-981 for 927.5 MHz nbFM, and a Icom IC-1201 for 1294.5 MHz and 1296.2 MHz FM.
There were two amplifiers for 222 MHz (weak signal and FM), a 423 MHz amplifier, hidden in the bottom box is a 50 W Stealth Microwave class A 900 MHz amplifier and, hidden in the white box on top, an old Down East Microwave 18 W 1296 amplifier.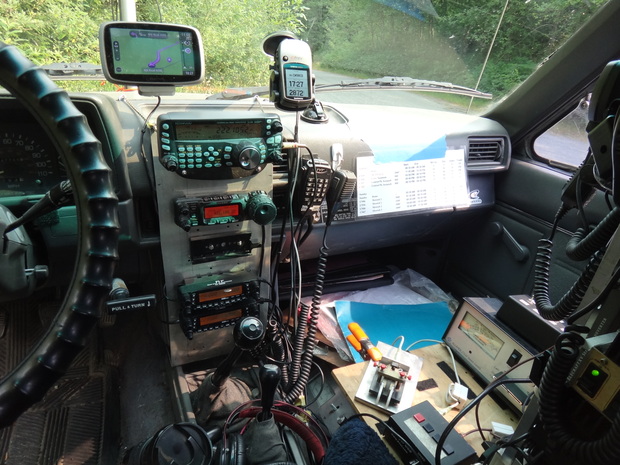 The rigs with remote heads were mounted on a sliding panel on the center console.
There were lots of antennas.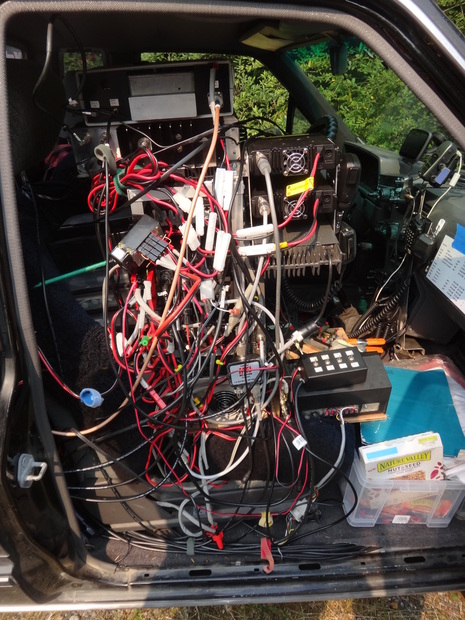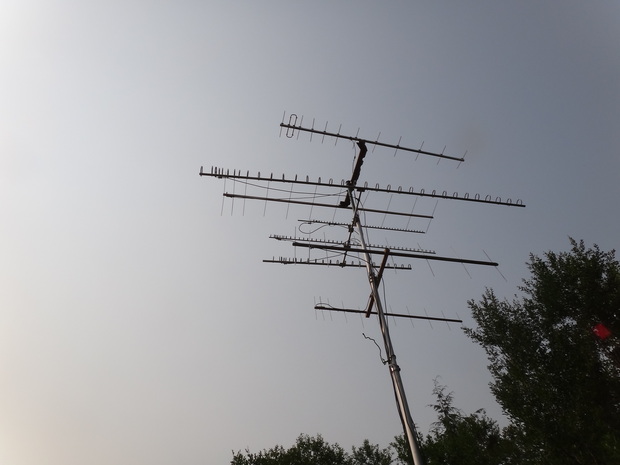 The rear antenna stack is on a 25′ telescoping mast, and contained eight antennas. On top is a cross-boom with a 12-element loop fed array for 432 MHz and an 11-element Wa5VJB "cheap yagi" (horizontally polarized) for 222 MHz. Next was a cross-boom with four antennas: (1) 900 MHz loop yagi at one end, a 1296 MHz loop yagi at the other end. Sandwiched between was a loop yagi for 2.3 GHz and 3.4 GHz. On the bottom are two vertically polarized "cheap yagis", one for 222 MHz and one for 446 MHz.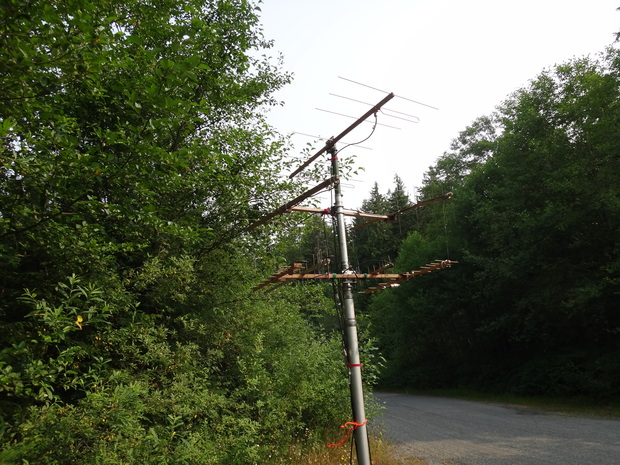 The front stack, was used primarily for in-motion QSOs. The antennas are short enough to legally rotate while in motion. On top is a 222 MHz "cheap yagi", then there is a horizontally and a vertically polarized 432/446 MHz cheap yagis. Below those is a cross-boom with a 903 MHz horizontally polarized cheap yagi, a 927 MHz vertically polarized cheap yagi, an both horizontally and vertically polarized cheap yagis.
Contest
On Saturday, I started out on Mt. Pilchuck (CN98) expecting that sometime soon, Ray (W7GLF) whould show up on Green Mountain (CN98) just to the north of me. He did eventually show up, but KE7UIU/R and AC7SG/R also showed up on Mt. Pilchuck, and K7GYB ended up somewhere near Green Mountain. When Ray got set up, we tried 2.3 GHz and 3.4 GHz but couldn't get either to work. I tried a couple of other times during the contest to make QSOs on these transverters (that I had never used before), but no dice.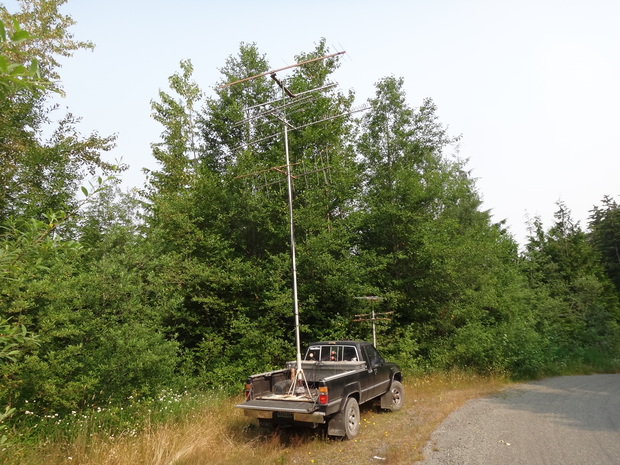 Two interesting things happened. First, I worked Mike (KD7TS) who was at sea level in Ocean Shores, WA in CN76 on 432 MHz. We didn't have a very good path because I couldn't hear him on any other band. The other interesting thing was hearing someone call CQ on 1294.5 MHz FM! It was AC7SG/R calling. In many years of having a rig monitoring 1294.5 MHz during microwave sprints and the UHF contest, I've never made a QSO on 1294.5 MHz FM. Most of the FM 23 CM contest activity is on 1296.2 MHz FM by a regional agreement, as that allows folks with weak signal equipment that can do FM to work people with FM-only rigs.
I overstayed my stop in CN98, so headed to an alternative CN88 stop in Lake Stevens. The spot is only 400′ AGL, so it didn't yield many distant QSOs. I did, however, work a bunch of stations in CN98.
The third stop of the day was on the CN97 and CN87 line in Central Park. This is a surprisingly good location for contesting, but it is pretty close to the populatino centers.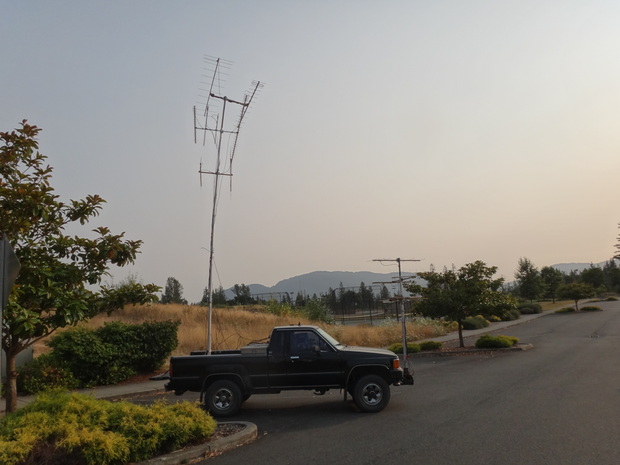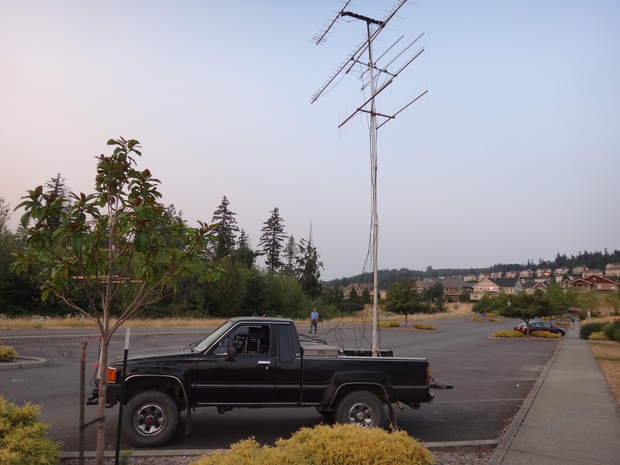 I made a return visit to CN97 to pick up some new stations, but shortly after 9pm local time, I packed up to head home. The park closed at dusk, which was 9:17 on that Saturday.
Sunday morning started very early for the two hour drive to CN86 and CN96 for a 7:00 start time. The radios seemed to work better on Sunday; I made over 70 QSOs from 7am to the 11am stop time.
Results
Even though most of my QSOs were not over long distances, I tried to compensate by making many QSOs. I ended up with 163 non-duplicate QSOs, including 65 on 222 MHz, 69 on 432/446 MHz, 9 on 902/927 MHz, and 20 on 1296/1294 MHz.
The sum of distances times band multipliers was 22,994.
Longest distance:
222 MHz: 339.9 km from CN86XX with KB7W in CN93JX
432 MHz: 297.1 km from CN86XX with KE7MSU/R in CN84FM
903 MHz: 82.27 km from CN96AW with AC7MD in CN87RN
1296 MHz: 187.9 km from CN96AW with K7YDL in CN85MJ
(Short link)